2023 Predictions: Get Ready For The Year Of The Rabbit!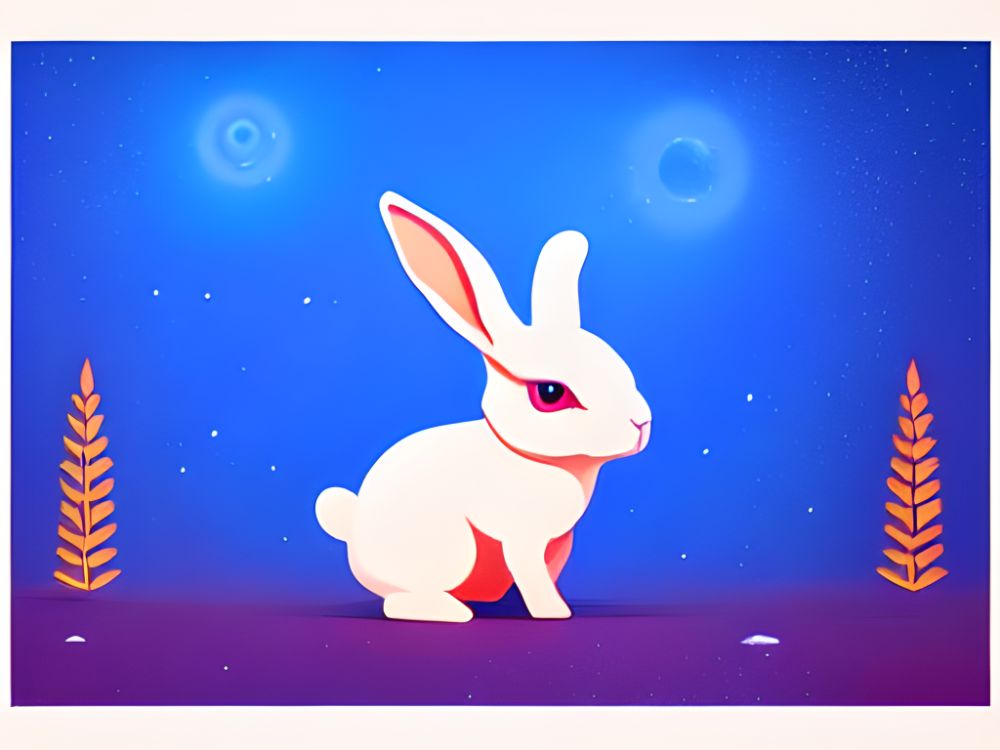 As the Chinese zodiac shifts from one sign to the next, the Lunar New Year or Spring Festival heralds in 2023 as the Year of the Rabbit. In Chinese culture, rabbits are associated with longevity, peace, prosperity and hope - a prediction which many are banking on for this coming year! Commencing on January 22, here's to a blessed and prosperous 2023!
The Origin of the Chinese Zodiac (2 Different Theories)
Chinese scholars suggest that the Chinese Zodiac dawned during China's Warring States Period (475 BCE to 221 BCE). Nevertheless, it was not until the Han Dynasty (202 BCE to 202 CE) that the Chinese astrological calendar started to gain traction.
Different theories and stories abound, making it tricky to accurately pin down the tradition's beginnings. According to one popular theory, the Chinese zodiac came into being with Silk Road trade routes. Advocates of this viewpoint suggest that the different animals of the Chinese zodiac signs symbolize those that were transported to China by Indian Buddhists.
Another common belief relates to the Jade Emperor; legend has it he invited all living creatures on Earth to a banquet, but only 12 begrudgingly showed up and in recognition of these 12 animals he dedicated one year on the traditional Chinese calendar to each.
Predictions for 2023: What To Expect Overall
The approaching Water Rabbit year is predicted to be a more tranquil one, in contrast to the vigorous year of the Tiger that preceded it. This Rabbit period will be a good year, less about proactive endeavors and more centered on contemplative introspection.
Which signs will be successful during the Year of the Rabbit 2023?
People born under the Dog, Sheep, Monkey and Pig sign can look forward to a fruitful year ahead as they are compatible with the Rabbit. It's essential, however, to take caution when assessing opportunities: appearances can often be deceiving and what initially seems like the best decision may not be so. In particular, those of the Dog and Pig zodiac should look out for challenging decisions concerning their career.
This year, despite the signs of prosperity, it is essential to remain composed. This is usually simpler said than done - yet those born under the animal signs are best placed to tackle this challenge - especially if they are in a group of their fellow zodiac friends. Specifically, Pig people and Rabbit personalities complement each other inherently; with Sheep and Dog included in the mix, friendships will be full of joy. They help to balance each other out. Those born under these signs often have a tolerant attitude and generous nature, which works perfectly with Rabbit's laid-back personality. Moreover, Sheep's romance, Dog's loyalty and Pig's affability enhances the dynamics of any group composed of them - radiating tranquillity and responsiveness wherever they go.
Those fortunate enough to have been born in the Year of the Monkey will be blessed with luck and prosperity this year. Astrologists advise Monkeys to prioritize communication, sustain diligence in their work and everyday schedule, participate in more sporting activities, get ample rest, and avoid working overtime.
The Year of the Rabbit also promises to honor the Rat, Ox, and Tiger with recognition, appreciation, and respect. The Rat may gain fame or esteem for their accomplishments, whilst the Ox should see positive financial opportunities ahead. The Tiger is advised to kick off their objectives early in the year for the greatest accomplishment later on.
Which signs are likely to face more challenges during the Year of the Rabbit?
Sorry, Snakes, Roosters, and Dragons - this year will be difficult for you according to the Rabbit energy. As leaders, Dragons may have difficulty with the slower-paced Rabbit year where decisions will have to be thought about carefully and often revisited. Snakes face similar challenges, while Rooster's tenacity and ambition won't help them in this difficult year. However, luck still has a role in our lives - it's just whether it's going to be smooth or choppy waters. One way to best equip yourself is by arranging your home according to the principles of Feng Shui which can help manage stressful times better.
What will be the outcome of other zodiacs in the Year of the Rabbit?
People born in the years of Horse, and Goat may face no great heights or extreme depths during 2023. The determination of the Horse should help them to overcome whatever comes their way.
Similarly, Goats can use their resilience to maneuver through obstacles. Conversely, Tigers may encounter good times as well as adversity. Whether or not they use their zealousness and boldness appropriately in regards to Rabbit year's surprises is still unclear.
For those born in the year of the Rabbit, the idea of having a "Ben Ming Nian" or zodiac birth year that could bring bad luck is not necessarily true. The origin of this belief stems from Chinese culture which views life as a twelve-year cycle, with change and fluctuation guided by Jupiter along the way. Such fluctuations will inevitably occur in one's life - but they can be positive or negative.
Astrological Predictions for each of the 12 Chinese zodiac signs
Rat
(Born: 1960, 1972, 1984, 1996, 2008)
According to the Chinese zodiac, luck and joy are upon Rats in the year of the Water Rabbit. Singles might be blessed with romance and existing relationships will flourish. Professionally, this is an opportune time to pursue your dreams. Careful money management could lead to financial abundance while health should remain satisfactory. 2023 looks bright and promising for the Rats!
Ox
(Born: 1949, 1961, 1973, 1985, 1997, 2009, 2021)
The Ox Horoscope predicts that couples born under this sign will see their romantic relationships flourish in the year of the Rabbit. Singles, however, may need to wait a while longer for love to find them. Career-wise, it is likely to be a rocky road but by year's end, Ox natives will have regained stability. Ox individuals must take care to avoid overspending and incurring financial difficulties. Fortunately, health should remain strong throughout the year.
Tiger
(Born: 1938, 1950, 1962, 1974, 1986, 1998, 2010, 2022)
2023 is a year of luck, blessings, and abundance for Tigers. In regards to romantic matters, those in relationships will experience great fulfillment and the unattached Tigers will have a prosperous time. Professionally, it's advisable to widen your social connections as new prospects will arise when doing so. Financially, the Chinese zodiac suggests seeking additional income sources for greater stability. Lastly, be sure to take care of your health by being cautious with weather changes and consulting physicians even during minor illnesses.
Rabbit
(Born: 1963, 1975, 1987, 1999, 2011, 2023)
2023 will be a fortunate period for those born in the year of the Rabbit. Love life will be especially abundant during the first three months of the year. Those married, however, should be diligent to avoid conflicts in their relationships. Professionally, success is in sight due to favorable star alignment. Career transition must wait until subsequent years. Financially, there are both ups and downs; income may be achieved but one must tread carefully to avoid carelessness with money. Lastly, health-wise: obligatory caution is advised when engaging in adventures as any misstep could result in an injury.
Dragon Chinese Horoscope 2023
(Born: 1940, 1952, 1964, 1976, 1988, 2000, 2012)
Those born in the Year of the Dragon will have mixed results. Those already married can anticipate a pleasant time with their significant other, whereas recently committed couples might undergo some struggles. For those still single, it could be the right year to meet their soulmate at long last. On the professional side, hard work and devotion should help you progress in your career; your boss is likely to take notice and grant you rewards. Financially, prepare for fluctuating times ahead. To stay healthy and fit, make sure to include exercise and yoga in your daily routine.
Snake
(Born: 1941, 1953, 1965, 1977, 1989, 2001, 2013)
This year will bring many positive changes for those born under the sign of the Snake. All your hard work and dedication will finally start to bear fruit. Therefore, it is a great time to explore romance and experience delightful moments with your beloved. However, be ready to face tough competition from your colleagues, so it's prudent to keep an eye on your adversaries. Finances will be plentiful if you can distinguish between essential and non-essential expenses. Lastly, remember not to overlook your health needs or forget to seek medical advice as necessary.
Horse
(Born: 1942, 1954, 1966, 1978, 1990, 2002, 2014)
The Horse natives can experience a vigorous lifestyle if they maintain an upbeat attitude during the year of the Water Rabbit. This period might bring a romantic time with their partners which could reinforce their connection. Those who are single may also encounter true love. At work, there could be initial difficulties but eventually, matters will begin to resolve and you will witness success in your professional life. Financially, some months could bring profusion while some could bring loss. It is recommended to be prudent in spending and set aside sufficient funds for hard times. In terms of health, special caution should be observed this year.
Sheep
(Born: 1943, 1955, 1967, 1979, 1991, 2003, 2015)
During the year of the Rabbit, Sheep may face hardships; however, these trials will make them tougher than ever. In matters of love, let your significant other have some independence by not keeping them under close watch. Career-wise, be ready for unexpected occurrences as your hard work will be rewarded and your talents will aid you in your career. Financially, pay heed to proper use of money or else you could have troubles on that front. Furthermore, be mindful of potential health risks - especially with regard to the wellbeing of your children this year..
Monkey
(Born: 1944, 1956, 1968, 1980, 1992, 2004, 2016)
This year, the Monkey natives will experience a contented and pleasant stretch. You are ready to make life-changing decisions which will bring about positive outcomes. In matters of love, the bond between you and your significant other will strengthen, allowing for greater understanding between the two of you. Single Monkeys who aren't yet prepared to fall in love ought not pressure themselves; the right individual will come along at just the right moment. After a difficult spell with setbacks in career, your job is finally going to take off. Concentrate on accomplishing your goals and keep progressing positively; success is yours! To achieve financial security, you must practice conscientiousness and forbearance. Take heed of your health as small ailments could obstruct you this season.
Rooster
(Born: 1945, 1957, 1969, 1981, 1993, 2005, 2017)
The year 2023 promises a rollercoaster journey for Rooster-born folks. Married natives must endeavour to maintain the equilibrium between private and public life, or risk incurring the wrath of their partner. Difficult conversations should not be feared, for they are essential in managing issues with care and compassion. Those who desire a special someone may find one this year. However, job seekers ought to put their dreams on hold until the time is right. Financial stability can only be attained by abiding by an allocated budget; extravagance should be avoided and savings stored away for future use. On the bright side, health-wise, it seems like a rewarding year ahead.
Dog
(Born: 1946, 1958, 1970, 1982, 1994, 2006, 2018)
This year is particularly auspicious for Dog natives, with the stars in alignment to bring luck, success, and abundance. In terms of love, they must be willing to venture away from their comfort zone in order to reap its full benefits - such as going out on romantic dates with their partner and showering them with affection. Businesspersons of this sign are expected to reap good profits. Daunting challenges might line their road towards success at work, but their patience shall carry them through these tribulations. Their aptitude for financial management will protect them from any turbulence in this realm. Health-wise, however, they should be mindful or else they may suffer from health issues - so it is imperative that they maintain a healthy lifestyle to ensure longevity and satisfaction in life.
Pig
(Born: 1947, 1959, 1971, 1983, 1995, 2007, 2019)
The Pigs' anticipated aspirations will be realized at last. To nurture love connections, make your beloved feel treasured and appreciated. Solitary individuals may find a gratifying relationship in this year. Professionally, you can see the fruits of your labor. In business, however, abstain from growth to dodge economic losses. Health-wise, activities that provoke stress and disquiet should be shunned in favor of yoga postures, reflection periods, and nourishing food.
Final Thoughts
This Lunar New Year, or what's known as Chinese New Year for many, will be an opportunity for peace and rest with many of the qualities that the Rabbit represents: prosperity, harmony, and stillness. As we celebrate with time spent with family, let's also take a break from our daily activities to reflect on what is truly important in life and set forth positive intentions for the year ahead. Let's use this lunar energy as a reminder to show compassion for ourselves and for others around us. Here's to a prosperous, hope-filled and calming Year of the Rabbit!
---
Get your daily dose of wellness delivered straight to your inbox. Sign up now for our newsletter.
---
Disclaimer:
These statements have not been evaluated by the Food and Drug Administration. This product is not intended to diagnose, treat, cure, or prevent any disease.
The content is purely informative and educational and should not be construed as medical advice. Any opinion expressed should not be treated as a substitute for professional medical advice. By using this website, you accept our Terms & Conditions and Privacy Policy. We cannot guarantee the accuracy of the information presented at this site. This article is not intended to be used as a substitute for the diagnosis and treatment of any health problem or to prescribe any medication or other treatment. You should consult with your health care provider before starting any diet, exercise, or supplementation program, before taking any medication, or if you have or suspect you might have a health problem.