10 Benefits of Butterfly Pea Flower: Why You Should Add it to Your Diet
Maybe you've seen the ultra-pretty photos of Butterfly pea flower drinks popping up in your Instagram feed and wondered "What is that?!" Yes- the flowers' vibrant blue color is pretty but did you know the flowers are also a major powerhouse when it comes to nutrients? In this article, we'll highlight 13 key benefits of the butterfly pea flower that might convince you to add it to your diet.
First, What is butterfly pea flower?
Butterfly pea flowers are the lively blossoms of Clitoria ternatea, a plant belonging to Southeast Asia and mostly cultivated in Thailand. The vibrant blue flowers take their name from the sizes and shapes of the blooms. In traditional Chinese medicine (TCM), they are considered cold in nature. The taste is described in TCM as bitter and it has a meridian affinity to the large intestine and liver.
While they've been used medicinally for centuries, Butterfly pea flowers have gained popularity in more recent times. They're used in baking, desserts, healthy smoothies, mixed drinks, and teas.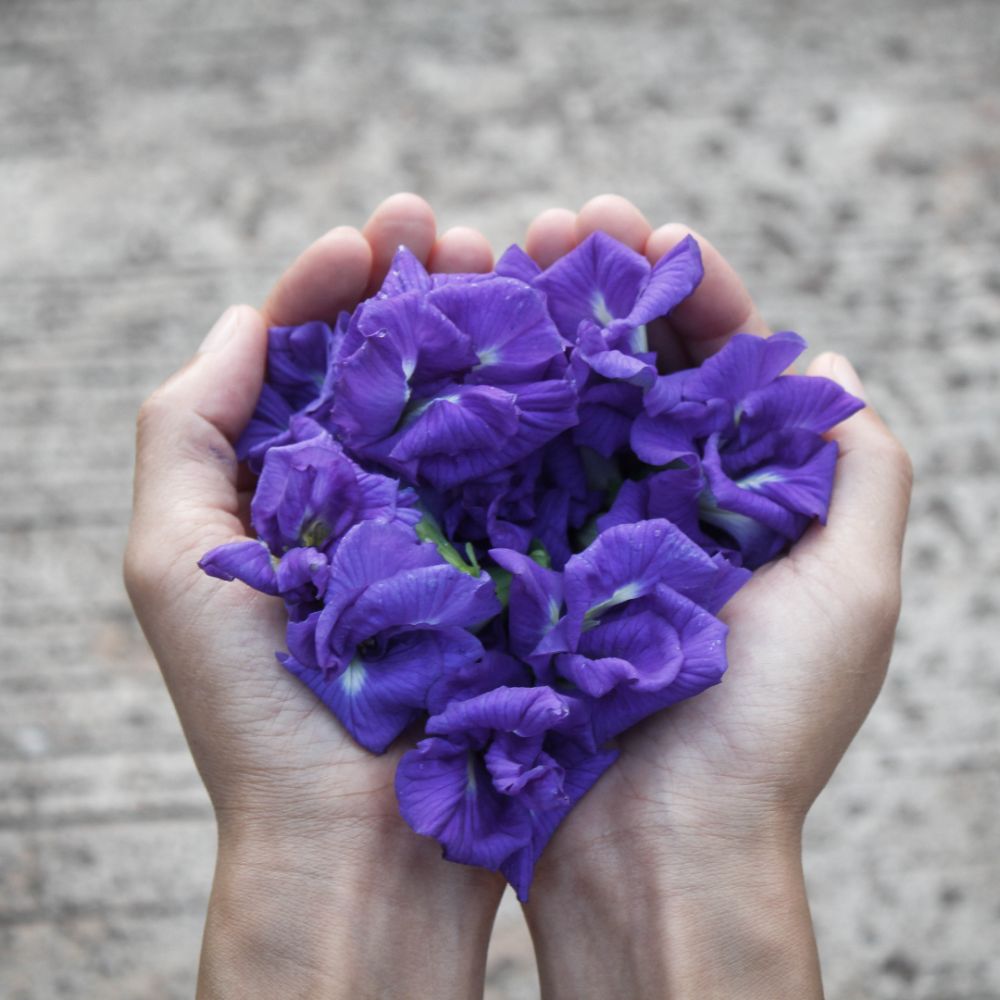 Butterfly pea flowers are a great source of minerals and antioxidants.
Butterfly pea flowers are also known to contain vitamin A and C which help promote healthy vision and skin.  They also contain potassium, zinc, and iron. These minerals and healthy antioxidants have been shown to help combat free radical damage, inflammation, and cardiovascular diseases.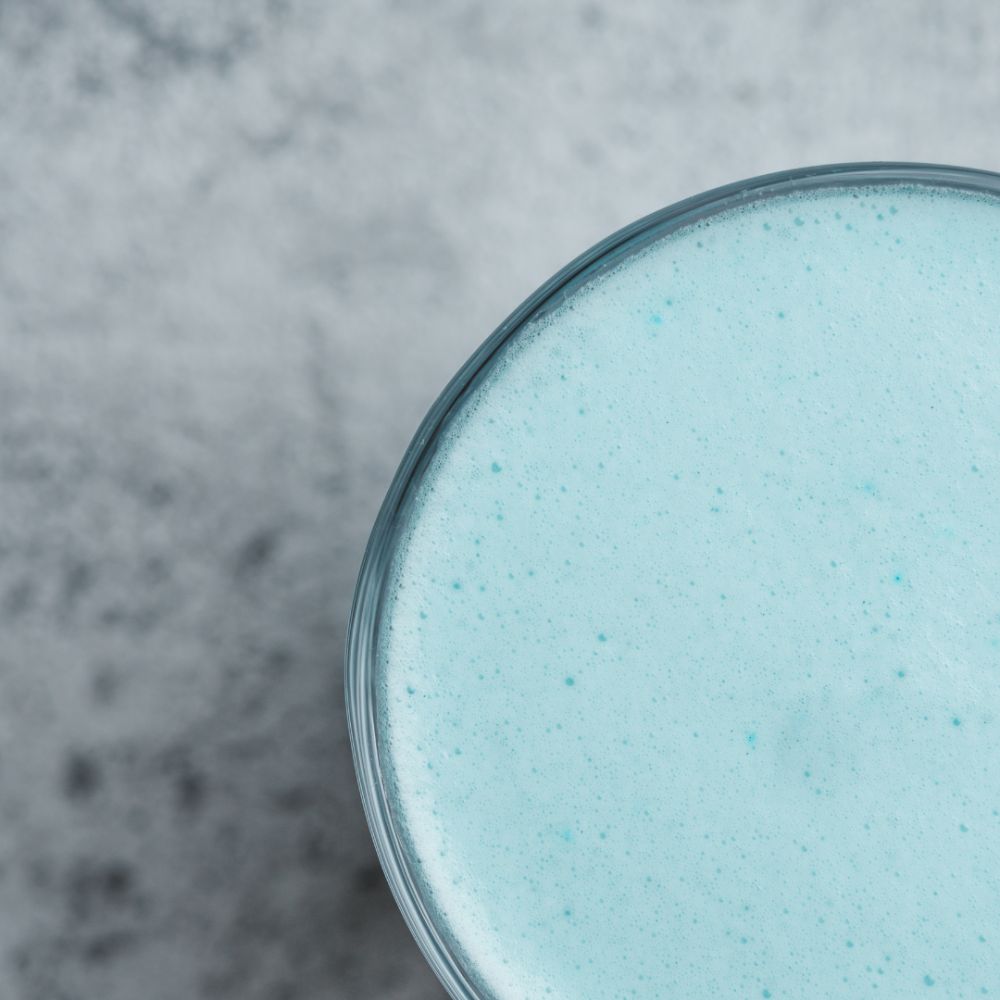 Low in calories, May Help With Weight Loss
This makes them a healthy option for people looking to lose weight or maintain their weight loss goals. This is because they have a low-calorie count compared to most other fruits and vegetables.  Research also suggests that a compound in butterfly pea flower may slow the formation of fat cells.
Butterfly pea flowers have anti-inflammatory properties.
These properties can help reduce the risk of heart disease and cancer. Studies have shown that the flavonoids found in butterfly pea flowers can help prevent the growth of cancer cells.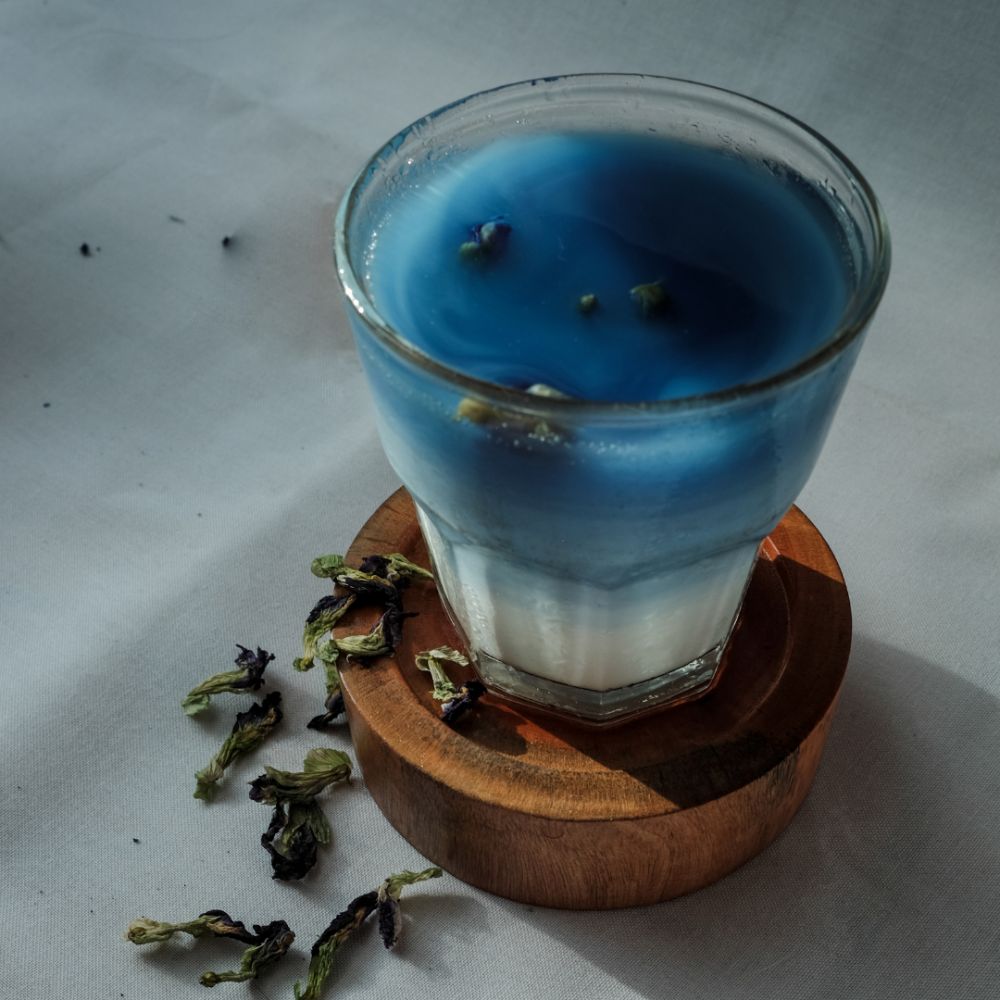 Butterfly pea flowers contain high amounts of dietary fiber.
This is one reason why they are often recommended as healthy snack food. Fiber can help with weight loss, blood sugar control, and cholesterol levels.
May help lower anxiety and stress.
According to a recent study, butterfly pea powder tea has been shown to increase mental energy and focus, reduce stress and anxiety, and improve mood. It has also been shown to increase the immune system and fight fatigue. The results were published in the Journal of Alternative and Complementary Medicine.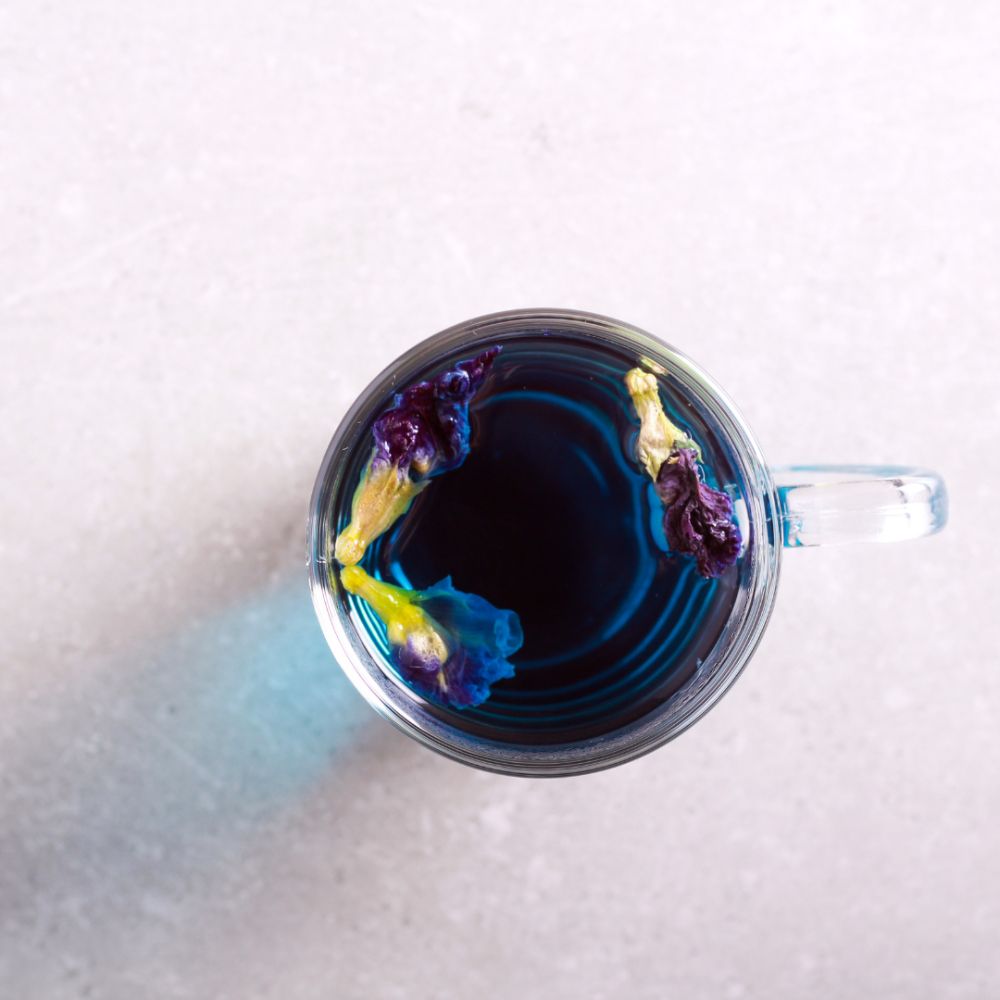 May improve memory
With age, the compound [acetylcholine]( Hasselmo, Michael E. "The Role of Acetylcholine in Learning and Memory." Current Opinion in Neurobiology, vol. 16, no. 6, Dec. 2006, pp. 710–15, doi:10.1016/j.conb.2006.09.002.) starts depleting, which can cause memory loss and other brain disorders. This tea provides a host of health benefits, but it's the one that has shown promise in slowing brain aging that may be most effective.
Enhance your skin and hair
Butterfly pea flowers are becoming more popular for skincare lovers. All parts of the flower can be used topically in your skincare routine. Research has shown butterfly pea flowers to have a soothing and hydrating impact on the skin. The flower is most beneficial to those who drink it as tea, as the flowers are rich in antioxidants.
Thought to be an aphrodisiac.
Butterfly pea flowers are thought to have an aphrodisiac effect. It is also said to aid in boosting sperm count in men and the relief of menstruation discomfort in women.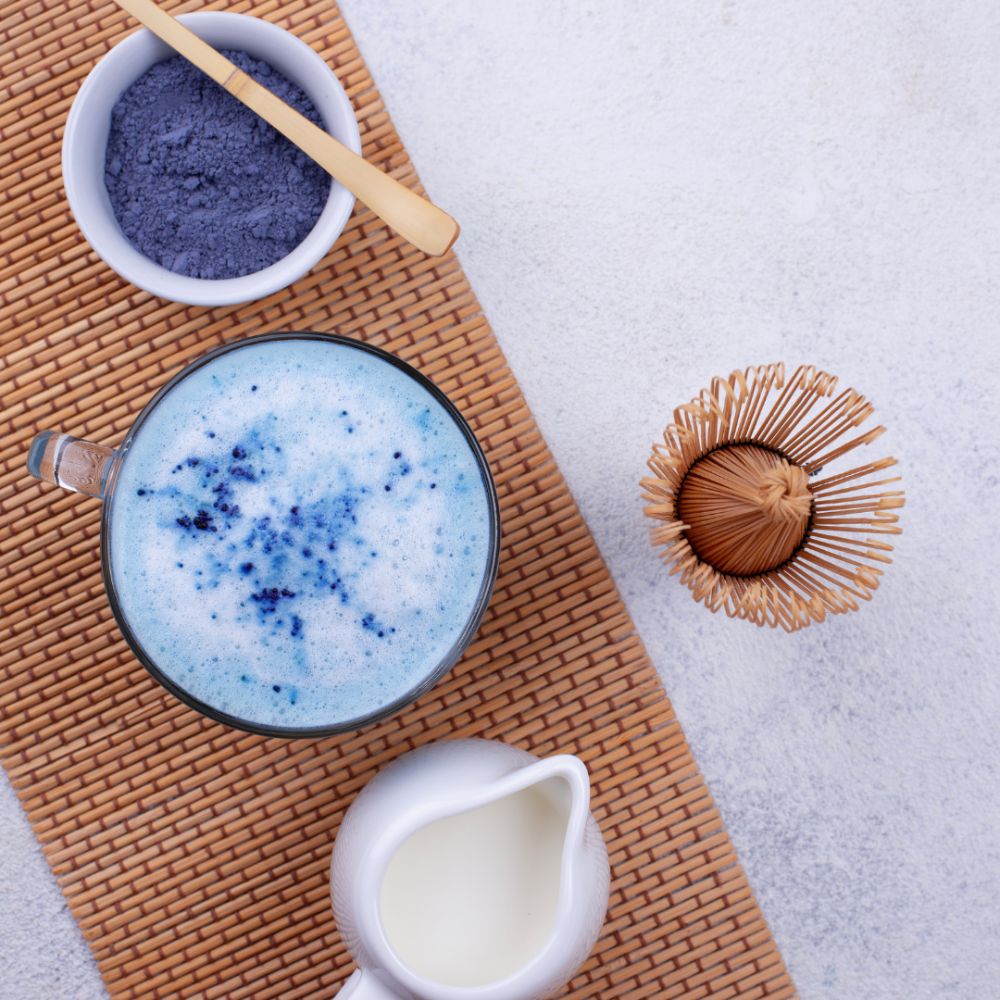 Anti-aging properties
If you want a clear, blemish-free complexion, you're in luck! Butterfly Pea Flower is full of anthocyanin, which promotes healthy skin. It improves blood circulation and provides your skin with a more youthful appearance. It also slows down the glycation process, which is what causes your skin to droop.
Improves digestive health
As people continue to increase their workloads at work, home, and in the community, they're often left with little time for exercise and proper digestion. Fortunately, consuming butterfly pea flower tea aids with flushing out toxins from the body. It helps to keep your pancreas, liver and intestines healthy and your digestion system function well.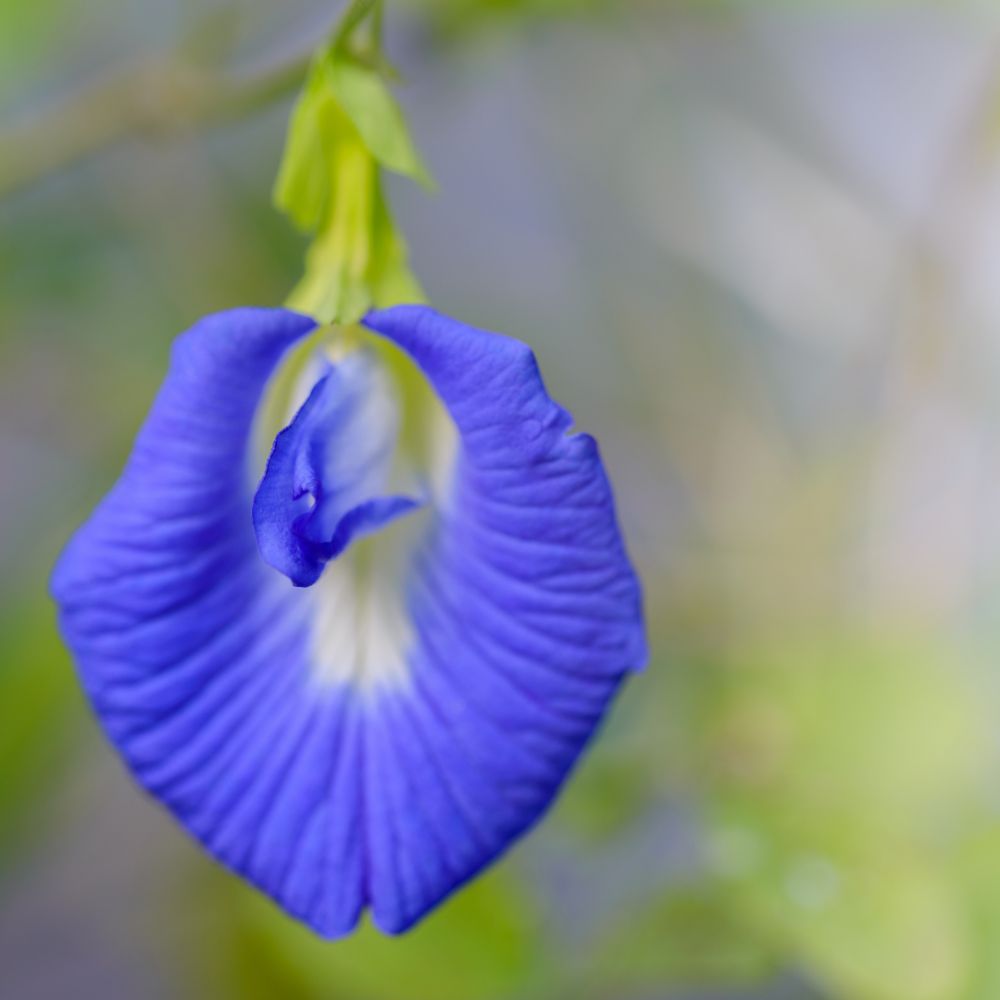 Common Questions Regarding Butterfly Pea Flower
What is butterfly pea flower good for when it comes to my health?
Butterfly pea flowers may be found in a variety of herbal teas, mixed beverages, and cosmetics. It's high in antioxidants and has been linked to a variety of health advantages, including weight loss, improved blood sugar management, and better hair and skin health.
Is butterfly pea flower toxic?
There's nothing toxic about the Butterfly Pea, which has a pleasing scent and pleasant taste.
Can I drink butterfly pea tea every day?
Yes, drinking a daily cup of tea made from the Butterfly pea flower can help reduce fatigue and bring about a sense of calm due to its analgesic and anti-inflammatory properties.
Summary
Adding butterfly pea flowers to your diet can provide a number of health benefits. The flower contains minerals, antioxidants, and anti-inflammatory properties that can help with anxiety and stress, as well as other health concerns. If you are looking for an easy way to improve your health, try butterfly pea flowers.  We have a delicious latte recipe below to get you started:
Butterfly Pea Flower Latte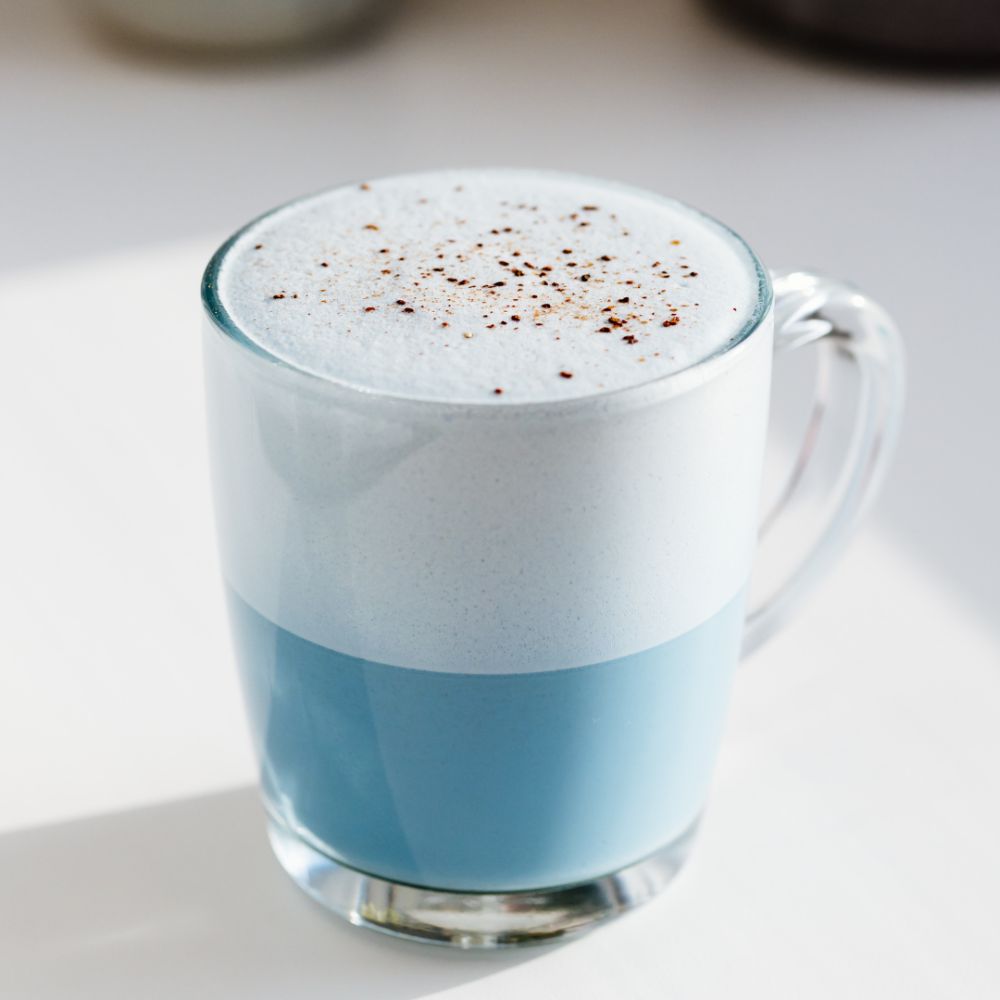 Ingredients:
-1 tsp of butterfly pea flower powder
-1/2 cup hot water
-1/2 tsp. vanilla extract
-1/2 cup of almond milk, oat milk, or regular milk
-1/2 tsp. ground cardamom
-sugar or sweetener to taste
Directions: 
1) In a small bowl, mix together the butterfly pea flower powder, hot water, vanilla extract, milk, and ground cardamom.  Preferably with a frother.  Make sure there are no clumps.
2) Pour the mixture into a mug. Add sugar or sweetener to taste and stir until combined. Serve hot.
PS: Want to know a few more herbs that can help you achieve glowing skin?  We've got you covered.  Read more here.
Sources:
Hasselmo, Michael E. "The Role of Acetylcholine in Learning and Memory." Current Opinion in Neurobiology, vol. 16, no. 6, Dec. 2006, pp. 710–15, doi:10.1016/j.conb.2006.09.002.
Morris. "Characterization of Butterfly Pea (Clitoria Ternatea L.) Accessions for Morphology, Phenology, Reproduction and Potential Nutraceutical, Pharmaceutical Trait Utilization." Genetic Resources and Crop Evolution, vol. 56, no. 3, Oct. 2008, pp. 421–27, doi:10.1007/s10722-008-9376-0.
Oguis, Georgianna K., et al. "Butterfly Pea (Clitoria Ternatea), a Cyclotide-Bearing Plant With Applications in Agriculture and Medicine." Frontiers in Plant Science, vol. 10, May 2019, p. 645, doi:10.3389/fpls.2019.00645.
Poramin Chayaratanasin, Allen Caobi, Chaturong Suparpprom, Sudarat Saenset, Porntip Pasukamonset, Nipattra Suanpairintr, Manuel Alejandro Barbieri, Sirichai Adisakwattana
Molecules. 2019 May; 24(10): 1894. Published online 2019 May 17. doi: 10.3390/molecules24101894
Zagórska-Dziok, Martyna, et al. "Cosmetic and Dermatological Properties of Selected Ayurvedic Plant Extracts." Molecules (Basel, Switzerland), vol. 26, no. 3, Jan. 2021, p. 614, doi:10.3390/molecules26030614.
---
Get your daily dose of wellness delivered straight to your inbox. Sign up now for our newsletter.
---
Disclaimer:
These statements have not been evaluated by the Food and Drug Administration. This product is not intended to diagnose, treat, cure, or prevent any disease.
The content is purely informative and educational and should not be construed as medical advice. Any opinion expressed should not be treated as a substitute for professional medical advice. By using this website, you accept our Terms & Conditions and Privacy Policy. We cannot guarantee the accuracy of the information presented at this site. This article is not intended to be used as a substitute for the diagnosis and treatment of any health problem or to prescribe any medication or other treatment. You should consult with your health care provider before starting any diet, exercise, or supplementation program, before taking any medication, or if you have or suspect you might have a health problem.